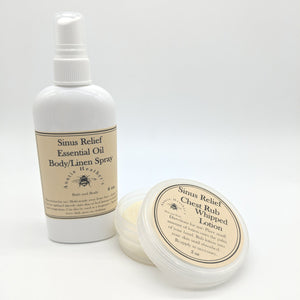 Lotion Directions: Place small amount of lotion onto the palm of your hand. Rub lotion into your skin until absorbed. Reapply as necessary.
3 oz Lotion Ingredients: Shea Butter, Beeswax, Coconut Oil, Olive Butter, Sinus Relief Essential Oil Blend.
Spray Directions: Hold nozzle away from face, shake well. Can be spritzed directly onto skin or bed linens to help sinus and congestion. Can also be used as a fragrance. Spray may leave dark spots on clothing.
4 oz Chest Spray Ingredients: Distilled Water, Glycerin, Sinus Relief Essential Oil Blend.