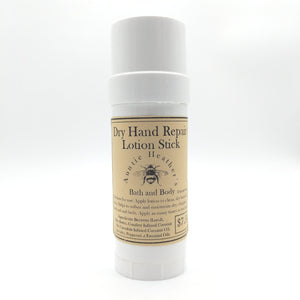 Great way of getting deep down moisture from natural moisturizers and emollients into your dry, chapped hands. Awesome before you go to bed therapy, but can be used all day. Top of salve will be hard at first, but will soften from the heat of your fingers. Have dry cracked cuticles, try our Cuticle Balm.
Directions for use: Apply salve to clean, dry hands, and rub in. Apply as many times as necessary. 
Ingredients: Shea Butter, Comfrey Infused Fractionated Coconut Oil, Calendula Infused Fractionated Coconut Oil, Beeswax (Local), Lavender, Peppermint Essential Oils.
Warning: Lotion will make the bottom of your feet slippery, please use caution when walking. Avoid contact with eyes. Keep our of reach of children, unless supervised by an adult. May stain clothing. May irritate skin, if this happens, discontinue use, and wash effected area with soap and water.