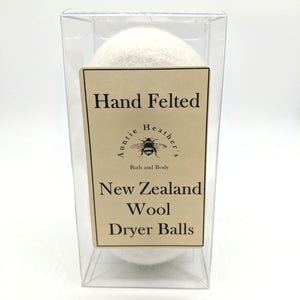 Artisanal 100% New Zealand Wool, Hand 
Felted in Nepal.
You are purchasing 2 dryer balls.
Directions for Use: Unscented and made without dyes. These dryer balls are a great alternative to dryer sheets. Throw them in your dryer to help your load dry faster. Reduce Static. And soften fabric. For a light scent sprinkle the dryer balls with essential oils as desired. Use 2, 4 or 6 balls in your dryer. The more you use the softer and quicker your dryer time will be.