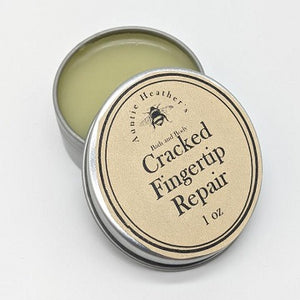 Having problems with dry, cracked/chapped fingertips? Our specially formulated recipe combines all natural ingredients to penetrate deeply, protect and provide time for your fingers to heal.
1 oz  Container.
Directions for use: Apply a small amount onto each cracked finger, rub in. Reapply as needed.
Ingredients: Beeswax (Local), Shea Butter, Comfrey Infused Coconut Oil, Calendula Infused Coconut Oil. Lavender, Peppermint Essential Oils.
 Warning: If you use on your feet, it could make the bottom of your feet slippery, please use caution when walking. Avoid contact with eyes. Keep out of reach of children. May stain clothing. May irritate skin, if this happens, discontinue use and wash affected area with soap and water.